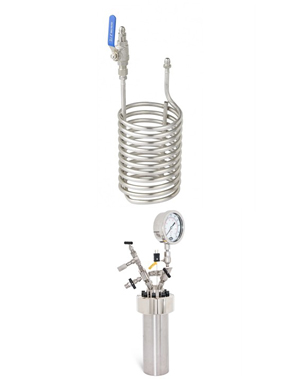 Fluidized temperature baths are being used by Fortune 500 companies and University Biochemistry and Engineering departments for fast and efficient heating of many processes, including heating of reactors and coils for dependable endothermic and exothermic reactions. Their large working volume, thermal capacity, temperature stability and uniformity make them a great heating solution for many laboratory and industrial applications.
Excellent heat transfer due to the liquid like properties of aluminum oxide allow heat soak and overall reaction times to be minimized providing expected results. Traditional laboratory ovens are not very thermally responsive. The aluminum oxide bath media is inert providing a safer operating environment. Salt baths are highly corrosive and very dangerous due to their explosive nature if any moisture is present. Any of our Fluidized Bath models can be used depending on the volume and size required to heat your custom reactor coil, Biomass reactor, Jacketed reactor, Parr reactor or general use laboratory reactor.
Here's what a Dow Chemical scientist has to say about us:
"We sometimes use fluidized sand bath furnaces for fixed bed reactors when the reaction temperature is relatively high and the temperature control is critical. We contacted Accurate Thermal Systems (ATS) when an established vendor failed to deliver high quality furnaces. ATS worked closely with us from the beginning to understand what we needed and modified their furnaces with additional safety features. Furthermore, the founder, Darren Sager, visited us on site to solve a temperature control specification issue. We are very happy with the quality of the ATS furnaces so far and are especially grateful for the technical assistance the company has provided."

J. Xu, PhD; R&D/Dow Chemical Co.
Heat Treatment
For Quality control or Research & Development work, our Fluidized Temperature Baths provide fast and consistent heating to tooling, apparatus, machine parts and devices for annealing, tempering and hardening applications. Our standard baths operate up to 605ºC with additional models capable of operating up to 1100ºC and then another for cryogenic applications down to -100ºC. These very high temperature Fluidized Baths allow for tempering of precision steel tools, devices and fixtures.
Require a large working volume and good heat capacity for thermal stress testing, thermal failure mode analysis and other temperature response investigation? Look no further!
Call us for assistance with your application to determine which Fluidized Temperature Bath model is the best fit for you needs.