Affordable PCR Thermal Cycler – UF 150 GeneChecker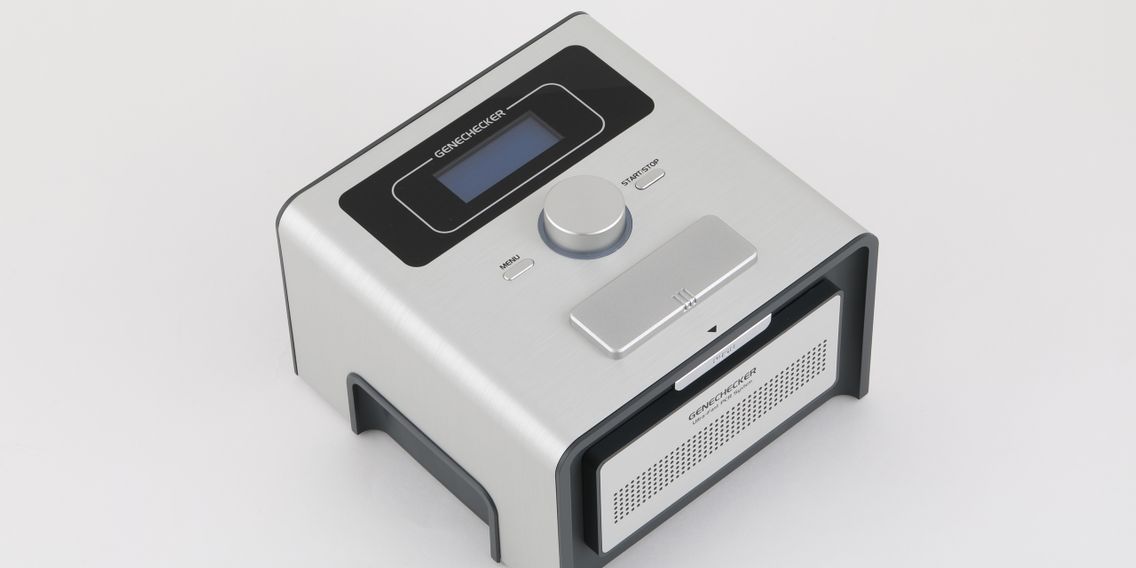 Real-time Detection Faster and Easier than Ever!
Patented Chip Based Design Provides Extremely Rapid Output – "30 Cycles in 12 Minutes"
Perfect for Food and Beverage applications like Pathogen and GMO testing
Wide uses include General Research and Education
Free dedicated software and simple to program
Affordable, Innovative and Ultra-Fast
The best tool to make your QPCR Diagnostics application faster and easier
GENECHECKER™ has adopted a special polymer chip (Rapi:chip™) which enables much faster thermal transfer to the samples when compared to conventional PCR tubes or plates. The thermal cycling mechanism of GENECHECKER™ achieves 8°C/sec ramping rate for both heating and cooling.
Upgraded camera module and state of the art software technology improves real-time analysis.
The Integrated camera module of GENECHECKER™ fully monitors and records the fluorescence signal of each sample and the recorded fluorescence values are processed and displayed by GENERECORDER software. Using this unique data analysis method, GENECHECKER™ provides very precise results of reactions compared to conventional real-time PCR instruments in the market which are collecting fluorescence data through an optical scanning method. The user interface of GENERECORDER was designed to help general real-time PCR instrument users operate this innovative instrument very easily. GENERECORDER provides amplification curves, melting curves and melting peaks for easy analysis.
GENECHECKER comes with GENERECORDER software  and is easily  installed. No user's calibration is needed to run the instrument.
Best of all this cutting edge Real Time PCR technology is only $6645. Contact us today for a written quotation or purchase with any major credit card or PayPal.
Patented chip based design and ultra-fast ramping provides extremely rapid output. – "30 cycles in 12 minutes"
Innovative Real PCR Instrument at an affordable price
Intuitive control with LED indicated jog-dial and LCD display
Innovative and compact design
Sample capacity (10 samples) gives you more efficiency.
Includes PC software for analysis of real time PCR data
Excellent temperature uniformity and accuracy
SPECIFICATIONS
Heating & Cooling method
Precise Peltier control
Temperature accuracy
±0.5°C
Temperature uniformity
±0.5°C (well to well)
Temperature stability
±0.5°C
Heating rate
8°C /second
Cooling rate
8°C /second
Range of temperature setting
30 ~ 65°C (1.0°C increment) for RT step / 20 ~ 99°C (1.0°C increment) for PCR
Sample format
Polymer based 3-dimentional chip
Number of samples per run
10
Required sample volume
10uL
Typical PCR duration
12 minutes for 30 cycles (without RT step)
Method of detection
Analysis of Digitized Fluorescence Signal
Type of Excitation
High Brightness LED
Wavelength
465nm +/-10nm
Number of detection channels
1
Method of Fluorescence measurement
Integrated Camera Module
Display
4 line text LCD
Integrated memory
Saves up to 12 protocols
Power Requirements
AC 100-230V/50/60HZ (input poer: 12 VDC)
Power Consumption
120W
Dimension
7.8"D x 7.8"W x 5"H
Weight
7 lbs
Ordering Information
001151 Model UF150 GeneChecker Ultra-Fast Real-time PCR System $6645.00
| | | | |
| --- | --- | --- | --- |
| Catalog# | Description | Pack Size | Price |
| 002001 | Rapi:chip qPCR Chip for GENECHECKER – Small Pack (1 Pk 48 Chips) | 48/PK U | $95.00 |
| 002002 | Rapi:chip qPCR Chip for GENECHECKER – Medium Pack (8 PK x cat. 002001 – (384 Chips)) | 384/PK U | $725.00 |
| 002003 | Rapi:chip qPCR Chip for GENECHECKER – Large Pack (16PK x cat. 002001 (768 chips)) | 768/PK U | $1,405.00 |
| 004001 | Rapi:Detect Master Mix with Fluorescent Dye for Model UF-150 (400 Reactions) | 2 x 1mL Tube | $365.00 |
| 004002 | Rapi:1-Step One-step RT-PCR Mix with Fluorescent Dye for Model UF-150 (400 Reactions) | 2 x 1mL Tube | $565.00 |