Affordable PCR Thermal Cycler – UF 100 GeneChecker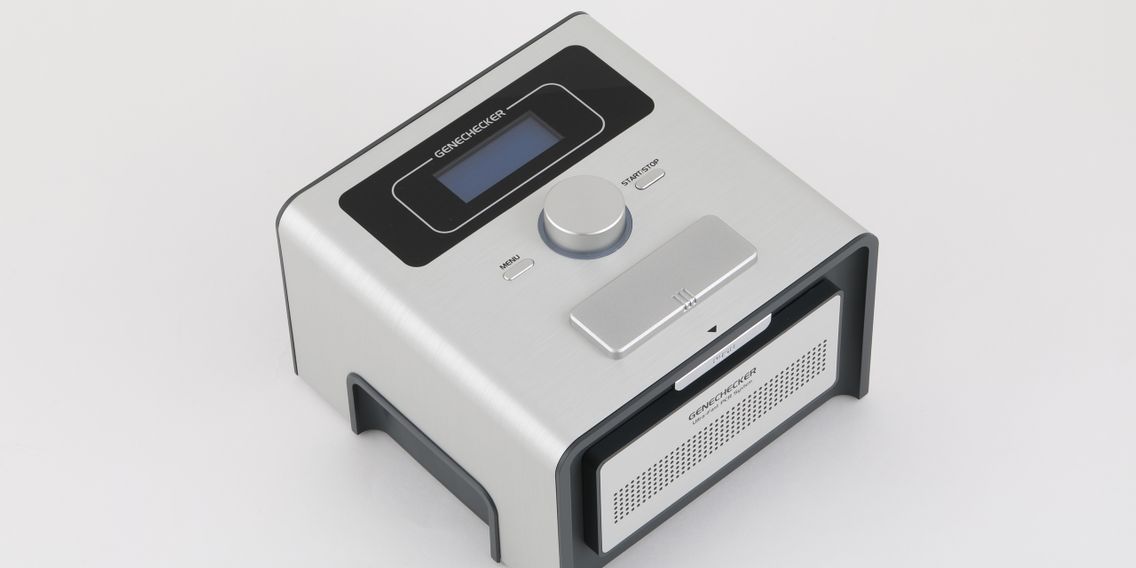 The best tool to make your DNA amplification faster and easier
GENECHECKER™ has adopted a special polymer chip (Rapi:chip™) which enables much faster thermal transfer to the samples when compared to conventional PCR tubes or plates.  The thermal cycling mechanism of GENECHECKER™ achieves 8 °C/sec ramping rate for both heating and cooling.
State-of-the-art hardware technology has achieved great functionality and cost effectiveness.
Patented technical know-how is optimized in the design and production of our Ultra-Fast PCR machine.  This enables any user to get Ultra-Fast, accurate results at a very affordable price. Making the UF-100 perfect for research, education, food and beverage or any laboratory.
All that speed and technology priced at $2085. Contact us today for a written quotation or purchase with any major credit card or PayPal.
Patented chip based design and ultra-fast ramping provides extremely rapid output. – "30 cycles in 12 minutes"
Innovative PCR device at an affordable price
Intuitive control with LED indicated jog-dial and LCD display
Innovative and compact design
Sample capacity (16 samples) gives you more efficiency.
Small Footprint
Excellent temperature uniformity and accuracy
SPECIFICATIONS
Heating & Cooling method
Precise Peltier control
Temperature accuracy
±0.5°C
Temperature uniformity
±0.5°C (well to well)
Temperature stability
±0.5°C
Heating rate
8°C /second
Cooling rate
8°C /second
Range of temperature setting
30 ~ 65°C (1.0°C increment) for RT step / 20 ~ 99°C (1.0°C increment) for PCR
Sample format
Polymer based 3-dimentional chip
Number of samples per run
10 to 16
Required sample volume
10uL
Typical PCR duration
12 minutes for 30 cycles (without RT step)
Display
4 line text LCD
Integrated memory
Saves up to 12 protocols
Power Requirements
AC 100-230V/50/60HZ (input poer: 12 VDC)
Power Consumption
120W
Dimension
7.8"D x 7.8"W x 5"H
Weight
7 lbs
Ordering Information
Catalog # Description Price
001100 Model UF100 GeneChecker Ultra-Fast Thermal Cycler $2085.00
| | | | |
| --- | --- | --- | --- |
| Catalog# | Description | Pack Size | Price |
| 002004 | Rapi:chip/16 PCR Chip for GENECHECKER – Small Pack (1 Pk 48 Chips) | 48/PK U | $95.00 |
| 002005 | Rapi:chip/16 PCR Chip for GENECHECKER – Medium Pack (8 PK x cat. 002001 – (384 Chips)) | 384/PK U | $725.00 |
| 002006 | Rapi:chip/16 PCR Chip for GENECHECKER – Large Pack (16PK x cat. 002004) | 768/PK U | $1,405.00 |
| 004003 | Rapi:Amp Master Mix for UF-100 GENECHECKER (400 Reactions) | 2 x 1mL Tube | $330.00 |