Affordable PCR Thermal Cycler – DCR Series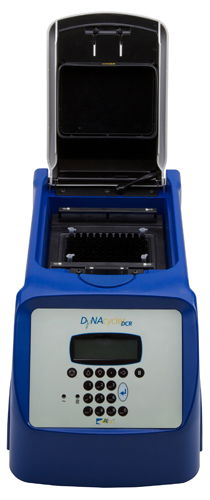 The DCR60 and DCR96 are lab workhorses. The robust design, easy programming and 1 year warranty make this a perform and forget about it unit. Large, medium and small labs will find the DCR60 and DCR96 the perfect choice for the high demanding labs of today.
ONLY $1995    Contact us today for a written quotation or purchase with any major credit card or PayPal.
Full size lab workhorse
Easy & intuitive programming
Interchangeable blocks – use both the 60 x 0.5mL and 96 x 0.2mL block in the same base unit.

 

Reliable design
Economical
Very uniform & accurate for repeatable results
SPECIFICATIONS
Temperature Range
4°C to 99°C,
Temperature accuracy
±0.5°C
Block uniformity
±0.5°C
End of program cooling below ambient
YES
Maximum ramp rate
2.3°C /second
Heated lid temperature
100°C  to 115°C
Heated lid enable/disable
YES
Program naming using alpha keys
YES
Program password protection
YES
Number of programs (3 step)
37
Power Requirements
AC input 120V or 230V with switch
Dimension
10.2"H x 8.7"W x 16.5"L
Weight
26 lbs
Ordering Information
Catalog# DCR96 – DCR Thermal cycler with 96 x 0.2mL block
List Price $1995.00
Catalog# DCR60 – DCR Thermal cycler with 60 x 0.5mL block
List Price $1995.00