Temperature Calibration
Overview
Dry Block Temperature Calibrators
These units consist of a drilled metal block which has a large well in it for accepting an insert. Some units have a well for an insert also a fixed 1/4″ hole for a reference probe. Inserts can have one or many different hole sizes in them and can be machined for tapered and custom probe sizes.
Benefits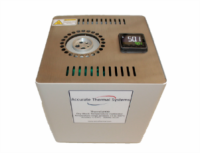 Portable and lightweight
Fast heat up and cool down
Small and compact foot print
Good display accuracy
Clean and easy to use
Fluidized Temperature Baths
With a large working volume and high heat capacity they are great for calibrating many sensors at a time or those that are larger and have tapered or an odd sheath. You get benefits of a liquid type of displacement but at high temperatures up to 1000ºC and as low as -100ºC. We recommend the FTBSL models for calibration work.
Benefits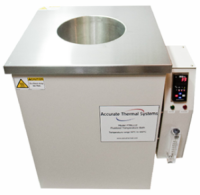 Large volume & heat capacity
Can calibrate many sensors at a time
Wide temperature range
Safer than salt baths, more stable & uniform than ovens
Liquid Calibration Baths
Consists of a stainless steel bath or tank that contains an appropriate liquid that is circulated with the temperature precisely controlled. Liquids offer the best thermal transfer of all given options. Best choice for calibrating liquid in glass thermometers and thermal switches.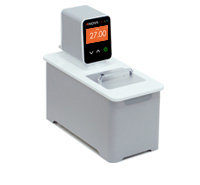 Benefits

Excellent stability and uniformity
Good accuracy
For lab work but can be placed on a cart
Can be used to calibrate several sensors at once
Fast thermal response/transfer of all options
Scroll